IBM Cloud Pak for Security
Connect to your existing data sources to generate deeper insights. Securely access IBM and third-party tools to search for threats across any cloud or on-premises location. Quickly orchestrate actions and responses to those threats – all while leaving your data where it is.
Explore More: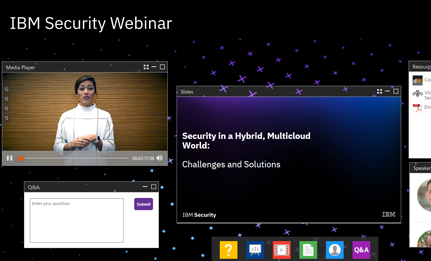 Security in a Hybrid, Multicloud World: Challenges and Solutions
Abstract: Businesses today are moving their operations to the cloud piece by piece, with applications and data spread across multiple clouds and on-premise resources. Securing this fragmented IT environment requires security teams to undertake costly migration projects and complex integrations, and continuously switch between different screens and products.
Join IBM Security and a featured speaker from Forrester as they walk through the latest research that digs deep into the security challenges that organizations, like yours, are facing. Learn about the journey most organizations are embarking on – security strategy, key investment areas, budget prioritization and lots more.
Watch the Webinar